Commercial Hand Dryer: Guide before Purchasing One
Suppose you own any business establishment that provides restroom services. In that case, you are probably now aware of the different options you can have regarding hand drying – electronic hand dryers and paper towels.
Yes, a paper towel does its job in hand drying, but it has some spinoff. At first glance, you may think that paper towels are cheap. However, if you check how much you spend on paper towels yearly, it will tell you otherwise. It is also wasteful and not good for the environment. It is now time to save up money and buy a commercial hand dryer instead. Not only will you help reduce unnecessary waste, but you will also cut down your expenses in the long run.
So to start your journey in looking for a commercial hand dryer, there are a few things you need to think about first before getting one. Listed here are the questions you need to ask yourself before actually buying a commercial hand dryer.
1. What business do I have?
The type of premises that you have is vital in deciding what commercial hand dryer you need to get. If you own a restaurant or a gym, then maybe any kind of commercial hand dryer is okay. However, if you are in a hospital or any medical setting, hygiene is crucial. If you own an office that requires a quiet environment, you need to look for a hand dryer with low power to keep it from emitting loud noise.
2. How many will use the restroom daily?
Knowing your restroom's foot traffic is needed as well. If your establishment is located in a place with high foot traffic like a school or a university, especially during break time, you need a commercial hand dryer that can dry hands faster than the usual drying time. You would need to get a high-speed hand dryer to accommodate everyone. You don't want people piling up in the restroom. If the toilet is in a less trafficked area, you can choose to have the basic hand dryers.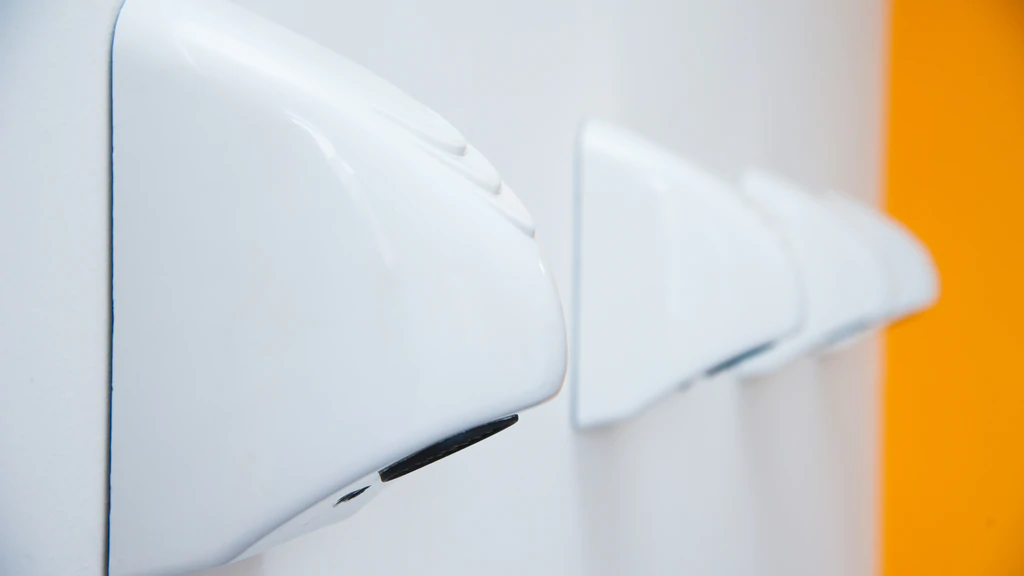 3. What design or look do you want?
If your restroom is in a hotel or a very fancy place, you want your commercial hand dryer to be aesthetically pleasing to blend into its environment. Therefore, you have to look for a hand dryer that allows you to have custom covers or has flexibility in its design to fit the restroom's overall look and ambience.
So moving forward, since you already have answered the questions above, next in line are the questions you need to ask for a hand dryer.
4. How fast can you dry your hands?
Conventional hand dryers usually take up to 40 seconds to dry a hand. This is because they have a low-power motor which hence the slow drying process. You should prefer these kinds of commercial hand dryers in restrooms in places requiring a quiet environment. However, there are models out there that can dry hands in just 8-10 seconds. Of course, the faster the drying time, the better performance of the hand dryer.
5. How much will it cost to run it?
There are commercial hand dryer models specifically designed to be energy-efficient to keep its utility costs low. This model is usually ideal for premises with a high volume of foot traffic to save money. The downside is that it's expensive because of its new technology. Remember that energy-friendly hand dryers are usually loud as it powers up to blow air faster and is costly. On the other hand, if you are looking for affordable ones, you can have the traditional hand dryers; however, these types use more energy than the newer models.
Frequently Asked Questions
How fast can I dry my hands in a hand dryer?

The speed of drying hands using an electric dryer dramatically depends on the model of the hand dryer. Traditional hand dryers with low-power motors can dry hands for about 30-40 seconds, while high-speed hand dryers can dry hands in just 15-20 seconds. Some can even dry in just 8-10 seconds!

How much is a hand dryer?

Conventional hand dryers are usually the affordable ones, while high-speed hand dryers are the expensive ones. Push-button hand dryers are the standard traditional hand dryers, while automatic hand dryers with hand sensors can be an excellent example of a costly hand dryer.

Are hand dryers economical?

Hand dryers are economical compared to using paper towels. Paper towels can cost roughly more than 200 pounds with just having small premises. If you have a more extensive establishment, that would cost a lot more, and that is separated from the whole washroom expenses.
Recommended Commercial Hand Dryer
ABIS Excel-9 Stainless Steel Hand Dryer Commercial is one of the best hand dryers in the market right now. It has a touch-free automatic sensor that activates when the hand is beneath the hand dryer. This hand dryer is ideal for establishments that prioritises their sanitary and hygiene like hospitals or medical settings. The hand dryer will automatically stop if it doesn't read the user's hand presence anymore.
ABIS Excel-9 is a high-speed electric dryer. With its power, it is capable of drying hands in only 10 seconds. It is perfect for establishments with high foot traffic because having a high-speed hand dryer will cut down washroom expenses, especially if you are using paper towels. ABIS Excel-9 is also energy-efficient.
Also, ABIS Excel-9's mainboard, motor, and external case have long-lasting service with CE & RoHS. Its outer case is from high-quality stainless steel for enhanced durability and resistance. With that comes its curved shaped, compact, and elegant design. This design ensures that it will suit and become part of the wall in any environment. In addition, it has a high-quality shiny gold finish which is ideal for fancy and classy restrooms. The option also comes with a glossy chrome finish for a classic and modern look.
ABIS Excel-9 has a 3-year warranty and is very easy to install. Its box includes the commercial hand dryer, installation guide, and warranty card. The hand dryer comes in fully assembled and, the required tools are all included in the box.