Electric Hand Dryers on the Market: Top 5 Electric Hand Dryers We Love
There are many hand dryers in the market to choose from, and picking one might be a thread going through a needle. It's complicated and confusing. There are many available options out there, and you might feel a little overwhelmed by these.
Upon research, listed here are the electric hand dryers that we love. To make things easier for you, browse through the options written down on this blog, so you can finally get that hand dryer that you want.
Top-5 Turboforce Junior PLUS Hand Dryer
Turboforce Junior is only £119.99 (inc. VAT). With its budget price tag, it also comes with superb performance, reliability, and intelligent features. If your restroom is in an area where people will use the dryer no more than 100 times a day, Turboforce Junior is for you. It has a great value hand dryer that is proven to last for many years. It takes up small space and has a high-grade stainless steel cover making it suitable for harsh surroundings like schools or universities and pub toilets.
Turboforce Junior's fast, energy-efficient drying and low noise output are perfect for low running costs. It can dry hands in 18 seconds and has internal UV protection that cleanses and has debris-catching filters.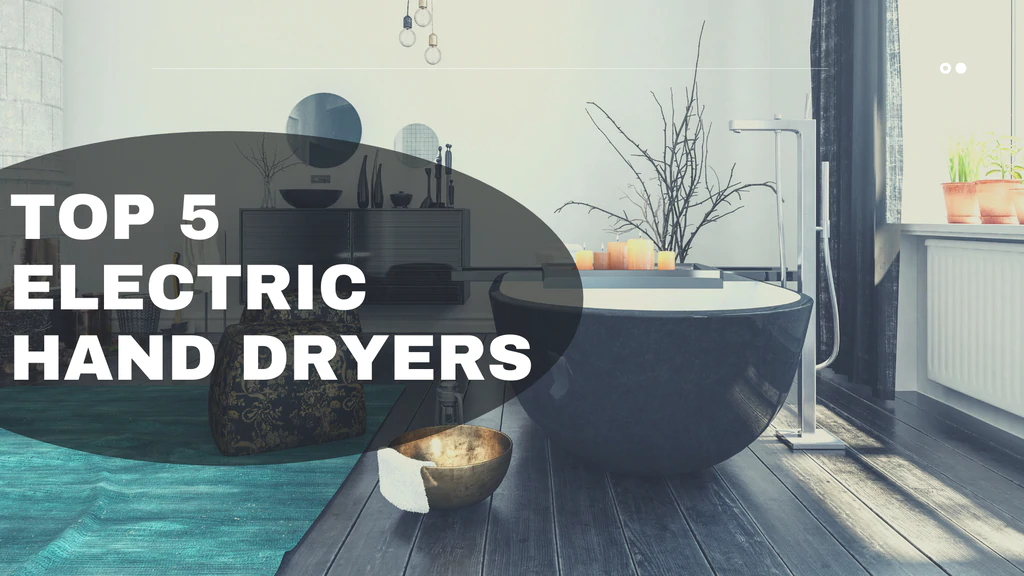 Top-4 Mitsubishi Jet Towel Smart Hand Dryer
Mitsubishi Jet Towel Smart Hand dryer is one of the fastest hand dryers in the market. With its max power, it can dry hands in 11 seconds. It is a very compact "hand under" hand dryer with a long-life motor because it has a quality build for high-performance and energy-efficient electric hand dryers.
Mitsubishi Jet Towel Smart Hand Dryer is very quiet in operation and blows filtered air, and has antibacterial resin in the materials which are NSF approved. It is robust with a protective steel shell and a long-life motor. With only £390.00 (inc. VAT), you can get your own Mitsubishi Jet Towel Smart Hand Dryer.
Top-3 Jet Force Junior HEPA Hand Dryer
Jet Force Junior is the most competitively priced blade "hands in" dryer on the market right now. It costs £310.80 (inc. VAT), one of the most affordable hand-in-blade dryers ranging from £300 to 600. Jet Force is compact than any other blade dryers with a 3-point infrared sensor. It has attractive UV activation light that can guide the user to the airflow of the electric hand dryer.
Jet Force Junior has a two-level filter protection system to ensure that the air being blown over to the hands is clean. It comes with a pre-filter protecting the HEPA filter. UV lights sterilise the HEPA filter and fix it at regular periods. Jet Force is capable of drying hands in just 14 seconds.
Top-2 Dryflow Vapordri HEPA Hand Dryer
Just like Jet Force, Dryflow Vapordri is a blade-style hand-in dryer as well. It is one of the smallest, impact-resistant, and quietest electric hand dryers available. In just 11 seconds, hands are completely dry using the clean air filtered from the Antibacterial ABS with a long-lasting H14 HEPA filter. Dry Flor Vapordri is suitable for places with high foot traffic as it has an intelligent heating system. It only adds heat to the airflow if the washroom temperature drops below 25 degrees celsius. The excess heat from the high-speed motor makes sure that the airflow is always at a comfortable temperature in warmer washrooms.
Dryflow Vapordri has a modern design and futuristic LED lighting making it very popular among washrooms with contemporary design. It also comes with a 0.5L collection tray to catch water and avoid wet floors. With its unique features, Dryflow Vapordri is currently £564.00 (inc. VAT).
Top-1 ABIS Excel-9 Electric Hand Dryer
To top it all off, ABIS has the most affordable yet quality electric hand dryers available on the market. With only £99.99 (Inc to top it all off VAT), you can have this fantastic product. ABIS Excel-9 has a touch-free automatic sensor that automatically activates when hands are placed beneath the electric hand dryer. It will automatically stop as well when you remove your hands. ABIS Excel-9 is also a high-speed electric dryer that is capable of drying hands in only 10 seconds. Faster than anyone on the list. Given that feature, ABIS Excel-9 is energy efficient. Because of its high-speed drying process, it provides a balance between power and limited consumption.
ABIS Excel-9's mainboard and motor are made for long-lasting service with original CE & RoHS compliance. The external case is made from high-quality stainless steel for enhanced durability and resistance, making it capable of withstanding time, heavy usage, and unexpected damage. It has a compact and elegant design. Its curved shape makes the electric hand dryer fit in any environment, let it be classic or modern. It also comes with either a high-quality shiny Chrome or Gold finish. It is suitable for classic, current, or even fancy environments.
Frequently Asked Questions
What are the best hand dryers in the market right now?

It could be overwhelming to look at the different hand dryers available in the market so listed here are the top 5:
TOP 1 – ABIS Excel-9 Commercial Hand Dryer
TOP 2 – Dryflow Vapordri HEPA Hand Dryer
TOP 3 – Jet Force Junior HEPA Hand Dryer
TOP 4 – Mitsubishi Jet Towel Smart Hand Dryer
TOP 5 – Turboforce Junior PLUS Hand Dryer

What is the best hand dryer for my business?

The best hand dryer for your business depends on the kind of establishment that you have. For example, if your company has high foot traffic daily, you would want to invest in a high-speed, energy-efficient hand dryer, and if otherwise, you can go with the affordable conventional hand dryers.

Is ABIS Excel-9 a good hand dryer?

Yes! With its affordable price for a hand dryer, it has an outstanding quality. It is an automatic high-speed, energy-efficient hand dryer that is perfect for high trafficked places. It can dry hands in just 10 seconds. It is also designed to be durable and elegant all at the same time.
Conclusion
Looking for the best electric hand dryer can be tricky since the word best is subjective. It all boils down to what you need for your business and how it can help you in the long run. Make sure to check all your options first to see which fits your criteria for your own best electric hand dryer.
To see more of our electric hand dryer products, check out our store.