Instead of booking an appointment every week at a massage spa, it's better and more economical just to have a massage gun at home. With that, you can quickly grab it and relieve the pain you feel in your muscles after a workout or maybe just by sitting all day doing work.
So before purchasing a massage gun, there are quite a few things you need to look at first before taking one home. You should closely consider these ten things since you have decided to invest in a handy massage gun.
Things to know about Massage Guns: All about Massage Guns
1. Types of Massage Guns
There are two types of massage guns – Vibration and Percussion massage guns.
Vibration Massage Guns
Vibration massage guns use vibration therapy. This application means that it uses vibrating movements to relax your body. When using a vibration massage gun device, you can keep the pressure intensity level at 11 lbs. For mild muscle soreness, you can relieve the pain after 15-20 minutes of therapy. However, if you are experiencing any intense muscle soreness or even craps at a specific area, using the device for 45 minutes is needed to recover quickly.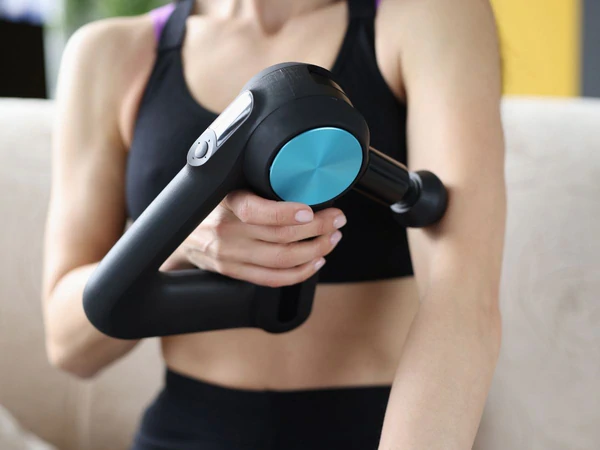 Percussion Massage Guns
On the other hand, percussion massage guns use percussive therapy. This method applies power or force to the area with muscle soreness. It aims to improve blood flow as it reaches deeper into the muscle. When using a percussion massage gun device, the intensity level can be stable at 30 lbs. It is considered better than vibration therapy since the device goes deeper into the muscle, helping you increase blood flow. However, since percussive treatment is more intense, sessions shouldn't exceed too much time.
2. Amplitude
For easy understanding, amplitude in massage guns can refer to the device's speed or power. For percussion massage guns, the attachment heads will travel deeper into your muscles if the massage gun has a high amplitude.
It is vital to assess your situation and your body needs first. Ask yourself if you require a massage gun with high amplitudes. Usually, physically active athletes have higher pain tolerance, which means that percussion devices with high amplitude are suitable for their bodies. If you think that your body doesn't need that much pressure, you can always go with the vibration massage guns.
3. RPM
RPM means revolution per minute. In simple terms, it is the number of times the attachment head can hit in a minute. For example, most of the massage guns vary from 2000 RPM to 3200 RMP.
RPM goes hand in hand with amplitude. Therefore, the higher the speed, the higher the intensity. Sometimes, there are models of massage guns that you can adjust the speed level to have options.
4. Noise
Since massage guns have a motor inside them, it means noise is unavoidable. This factor is essential since some models tend to have uncomfortable noise when used.
5. Battery Life
There are massage guns that are operated by batteries and some by cord and electricity. Other models work with rechargeable batteries while having a cable, or they can be wireless.
It is crucial to consider the battery life of the massage gun since you might require to use it for a couple of hours. You don't want it to die in the middle of muscle therapy.
6. Attachment Heads
Attachment heads on massage guns usually depend on what the utiliser prefers. Of course, there are the traditional attachments like a bullet head or a ball, but there are also unique ones that can give a better experience. The number of attachment heads may also vary depending on the model that you get.
7. Weight
Do take note of weight when purchasing a massage gun. Keep in mind that you will be holding the device for more than 30 minutes to even a couple of hours for your muscle therapy. Ensure that the massage gun you will be using won't strain or numb your wrist, arm, or even hand.
8. Design
The design of the massage gun isn't really about the aesthetics or how it's going to look like. It is more about its practical features. The design goes hand in hand with the weight. Ensure that the invention is even and well-balanced so that it's easy to use for a long time. Poor-designed massage guns can be bulky and hard to hold.
9. Warranty
Warranties are essential when buying a massage gun since it's a high-value investment. Look for massage guns with a good warranty offer for any defects or failures. It is significantly crucial if you purchased the massage gun overseas. A warranty would be helpful since you weren't able to check it physically before having it at home.
10. Extras
Just like any other device, massage gun models vary. Some are ahead because of modifications, and some included extras. For example, there are massage guns that come with two batteries. Some have LED built-in, and some can be connected to your smartphone. When looking for massage guns with extras, choose the one that can give you convenience.
Frequently Asked Questions
What are the two types of massage guns?

There are two types of massage guns, namely vibration massage guns and percussion massage guns. Vibration massage guns use vibration therapy that uses vibrating movements to relax your body. In comparison, percussion massage guns use percussive treatment, which applies force to the area with muscle soreness.

What are the things to consider when buying a massage gun?

There are many things to consider when buying a massage gun; however, you can focus on these ten things to cut it down and make it even easier to distinguish the right massage gun for you:
1. Type of a Massage Gun
2. Amplitude
3. RPM
4. Noise
5. Battery Life
6. Attachment Heads
7. Weight
8. Design
9. Warranty
10. Extras

Is a percussion massage gun better than a vibration massage gun?

A Percussion massage gun can be better than a vibration massage gun in amplitude since percussive therapy has an intense method to relieve pain and muscle soreness. However, this greatly depends on your body needs, so a vibration massage gun is better if you want a light massage.
Recommendation
Given the many models of massage guns in the market, it will be hard to pick one. So here instead is a good recommendation for you: ABIS Deep Tissue Portable Massage Gun FTM19.
ABIS FTM19 is a percussion massage gun that applies pulses of concentrated pressure deep into your muscle tissue. It comes with four interchangeable head attachments that can help you to improve your blood flow and quickly enhances your range of motion. This massager can shorten your recovery time while relieving pain, tension, and soreness when appropriately used.
ABIS FTM19 also has an adjustable intensity level. Its eight different massage heads allow you to choose the proper pressure to relieve your pain. This device also comes with three-speed levels that you can adjust. With 3,200 percussions per minute, it's as if you are medically treated by a professional.
ABIS also made sure that ABIS FTM19 has a high-torque motor that provides proper permission with about 12mm of stroke length. It is perfect for aiding in recovery and decreasing soreness. ABIS also implemented a technology to make the massage gun's battery life last for as long as possible. ABIS FTM19 has a lithium-ion battery that allows you to use it for up to 3 hours of non-stop use. Its rechargeable feature automatically adjusts the voltage received from the vehicle so that the device always charges at a constant rate. This feature avoids overheating and ensures enhanced durability.
ABIS FTM19 is also lightweight and easy to use. Its ergonomic shape won't strain your hand while using it. It is also equipped with a Unique Quiet Glide Technology and a 24V brushless high-torque motor to ensure that you will have a quiet massaging experience.