Today, we endure tough times. And while establishments have shut down, mostly everything is done at home now. Learning, getting fit, and even businesses are operating at home. Entertainment technology has innovated in recent years, which means that it's also possible to create a home cinema setup that can be as good as the real deal.
However, don't pressure yourself into buying all of the materials. Each one of the items you'll need might not be compatible with each other. Here's a guide to finding the right stuff you need to complete your home cinema setup.
Home Cinema setup: Things you need for a Home Cinema Setup
Essentials for a Home Cinema
List everything you'll need for your home cinema. This list will help you budget it out. The top priority is the projector and the screen. You may also need to buy an external speaker and accessories, like ceiling mounts and extra cables.
Choosing the right projector
First off, the projector is an essential part of your home cinema setup. It can go way beyond the size of your TV– and project a picture as massive as 150 inches in diameter.
The projector will most likely be the most pricey. These projectors vary from models costing just over £70 to full-featured 4K Ultra HD edition costing £1000 or more. For most homes, a 1080p resolution projector would always suffice.
The Setting
If you're planning to watch only indoors, you don't need to worry much about brightness, but if you want to have an outdoor setup where you can watch films in the daytime, this means you'll be looking for a projector that offers at least 2,000 ANSI Lumens brightness.
Type of Projector
For the projector, make sure to check that it's a home cinema-centric model rather than an industrial one that's meant for offices. The clue is on the back: if VGA, audio, and composite video ins and outs, avoid it – all you want to see is a couple of HDMI inputs. It's also worth mentioning that projectors that are 3D-ready spec will most likely require an additional purchase of 3D glasses and transmitters.
Ability to Focus
To add up, watch out for the zoom and lens shift specs. The biggest hassle comes when a projector is trying to achieve a dead straight-on image within the confines of a projector screen, but this won't be a problem if you choose a model with decent optical zoom (1.5x) and vertical or horizontal lens shift.
The Cinema Screen
You can always project the image from a projector directly onto your wall or prop up a white bed sheet or tarp. But if you want to go the extra mile, it's worth it to invest in a high-quality projector screen.
Few homes have many completely blank, white walls the size you'll want for a projector screen. However, projector screens are designed to heighten contrast and improve image quality, which is a big help in rooms with lots of ambient light, and walls aren't designed to do that.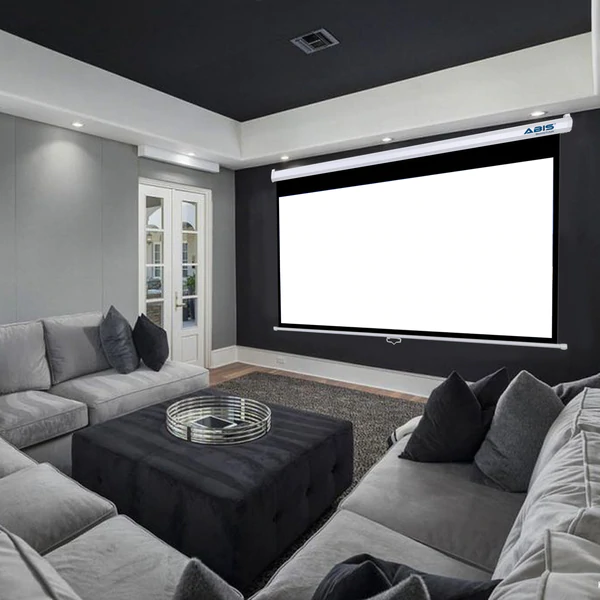 Projector screens can be in the same price range, surprisingly. For most, a simple white screen that's around 120" to 150" is pretty standard. You can find a decent one in the £40 to £70 price range. The only reason to spend more is if you want extra features, like a high-contrast screen or the option of built-in behind-the-screen speakers.
Audio is a step to reality
The built-in speakers in televisions are alright and decent. Mostly the sound will come from the front. External speakers are optional for televisions, but they're necessary if you're using a projector. If you already have speakers, make sure they'll be compatible with the projector you'll purchase. The majority of projectors will have at least 3.5mm audio out. Or better yet, if the projector is Wi-Fi and Bluetooth enabled.
Once you have your external speakers, it is advisable to place them like they're surrounding your projector screen. In this way, it will lead to a more realistic experience. If the film shows a car dashing from the left, then straight ahead to the right, you'll hear it coming from the left speaker to the right speaker.
If you've been satisfied with the sound you get from your television speakers, a simple 2.1 surround sound system (two bookshelf speakers and one subwoofer) will be enough for many. You can find decent sets for as little as £30.
Last but not least, don't forget about accessories like ceiling mounts and cables. These don't add much expense individually; most ceiling mount systems cost around £10-£20. Also, this might be a project you want to seek a professional, especially if you're not the DIY type and want to run the wires through the walls or mount all the equipment in place.
Frequently Asked Questions
Why is it better to have a projector screen instead of a white wall?

Projector screens are made with a special coating that highly improves their reflective properties. A typical white wall is not designed for this purpose and will not have this special coating. So when an image is projected on a wall, it will not be near as bright as it would appear on a projector screen.

Can I connect my projector to my smartphone?

The most common way to connect a device to a projector is to use Chromecast. To be able to do this, your projector must support HDMI connections. Once you plug your Chromecast into the HDMI port, you can then wirelessly stream your device screen to it.

How much will it cost to buy a complete home cinema set up?

The cost of this will entirely depend on what level of technology you'd prefer for your home cinema. To give you an idea of what you would need to get the essentials and start building, here's a general estimation of what it would look like:
Entry-level: Starting from £15k- £25k
Mid-range: Starting from £40k – £50k
Showstoppers: Starting from £80k-£100k
Recommendation
With the ABIS Projector and 100" Electric Screen Bundle Deal, you can have the essentials you need for your home cinema setup. Not only can you use it for a home cinema setup, but you can also use it for school or business-related presentations. This bundle includes everything that you'll need to use the projector in the best way: from the ceiling mount, the high-resolution screen, mounts, and other accessories.
What's Included in the bundle:
1 x Our Smart HD6K 4th Generation Projector
1 x 100″ Electric Projector Screen 16:9 Wide Screen
1 x Projector Ceiling Bracket
1 x 10m HDMI Cable