A Comprehensive Hand Dryer Guide on What to Look For in a Hand Dryer
Like most things, hand dryers come in different looks, sizes, and function. But unlike most things, only a few hand dryers are built exceptionally. Not all are made for heavy foot traffic. Some aren't even made to withstand the typical wear and tear that hand dryers should be able to endure.
So when it comes to hand dryers, how do you find the perfect one for your business? Read on.
Efficiency
Busy areas call for quick and efficient methods – no matter what or where it may be – bathrooms, of course, are also included in this. If you manage a busy commercial space, then chances are, you're the perfect witness to how heavy the foot traffic gets in every place.
Hand dryers like ABIS's Excel-9 are specially made for places like offices, restaurants, clubs, and many other busy places. Because of its motor speed, it can dry hands quickly in less than 15 seconds; queuing is no longer a problem that your customers will have to deal with. Thus, taking longer in the bathroom just to dry their hands is prevented.
Electric Consumption
Whether you're trying to save more money or conserving energy, installing or replacing your old hand dryer with the Excel-9 is an excellent choice. Aside from taking less time to dry you or your customers' hands, its automatic sensor also allows you to leave the hand dryer unsupervised as it's guaranteed to turn off when not in use.
Moreover, switching to a hand dryer eliminates the need to use a paper towel – saving you more money as you'll no longer need to restock your paper towel dispenser; the environment also benefits from this as you'll contribute to the reduction of paper pollution.
Durability
There are only a few hand dryers that are made with durable material like stainless steel – Excel-9 is one of them. Not only does it come with beautiful and vibrant colours like chrome, gold, and black, we guarantee that whichever colour you choose for your establishment, it's built to last for over a decade and can withstand physical blows, as well as resist vandalism.
Not all hand dryers are made alike. While it's true that all hand dryer manufacturers build products that can do the job, not every hand dryer can be used efficiently and conveniently. If you wish to purchase a hand dryer that possesses all exceptional hand dryer qualities, visit our store.
As always, other than teaching you how to choose the perfect hand dryer for your needs and environment, we also want to share a quick recommendation about what is the absolute best item in our opinion. This way, if you were looking for a quick suggestion, you can find what you were looking for here.
What's the best hand dryer to buy?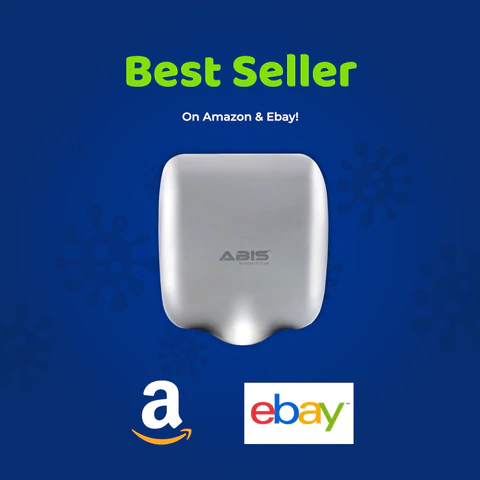 Many hand dryers are now available for anyone to purchase. Nearly all manufacturers and distributors make the same claim that's supposed to benefit the business-owners and its users. Bigger and more established brands even have a significant competitive advantage from lesser-known distributors as their brand image alone is easily recognised more. Not all leading brands, however, can back up the claims of their said products. Unfortunately, many establishment-owners fall for the marketing campaigns that these companies implement, and they end up paying more than they should when it comes to purchasing hand dryers.
We, on the other hand, make the best quality hand dryers that are proven to satisfy the hand drying needs of their users. Models like the Storm and Excel-9 are continuously gaining popularity among establishment-owners and managers because of its numerous advantages. In terms of the "best" hand dryer, the Excel-9 is dubbed as the most favourite one in the UK – and it has hundreds of reviews as proof of its excellent quality.
But why exactly is the Excel-9 considered as the best hand dryer?
Cost-effectiveness
Whether you're installing a hand dryer in a small cafe or in an office that amasses a heavy amount of foot traffic in the bathroom, cutting back on the expenses is always a wise solution and is known to be a very effective strategy in your business growth. What most entrepreneurs fail to notice is that the simple but constant repurchasing and refilling of paper towels in the paper towel dispenser causes them to spend more than they should. Switching to a hand dryer not only eliminates the need to restock paper towels, it also helps you lessen the foot traffic in busy establishments as the Excel-9's powerful motor and air spin speed can dry hands thoroughly and effectively in less than 15 seconds – this advantage is something your customers and employees will appreciate as not everyone can afford to spend time queuing just to dry their hands.
Environmentally-friendly
Some people are more aware of the detrimental impact that paper waste has on the environment. These are the same people who push for other solutions and alternative methods of hand drying – and they have every right to. It's a common misconception that paper towels are recyclable. In fact, paper waste is becoming so severe that landfills are filled with over a billion tons of paper towels every year in the US alone. It's an alarming reality indeed. If you're one of the people who wish to contribute to the betterment to the environment, then switching to hand dryers like the Excel-9 is a wise choice because you will no longer have to be a part of the communities who dispose of paper towels and other materials that can negatively affect the environment.
Easy Installation
Other than eliminating paper towels to cut back on the business costs, installing it yourself also saves you money as you will no longer have to hire a professional to install it. While the labour costs of hiring an installer may seem insignificant, but to small businesses, it's a huge advantage to them. Not only that, the installation process can be done easily as we have accommodating and helpful customer service representatives who will gladly assist you every step of the way. Any problems that may arise during installation can be resolved in just a single phone call.
Not all hand dryers are made alike. While some are made and distributed by more well-known brands, not everyone can maximise its features. If you wish to purchase a hand dryer at a much cheaper price with the possibility of discounts, visit our store.
Why is Excel-9 the best investment?
1. Quick Drying Time
Most commercial spaces have bathroom foot traffic as one of their biggest problems. And it can indeed be inconvenient to customers who wish to get back on their day-to-day routine – especially if the traffic occurs in an office where employees are on a limited break time. Bars, pubs, and clubs also witness heavy traffic in the bathroom that often upsets their patrons and customers because bathroom breaks are common in these types of establishments.
Oftentimes, the inconvenience of having heavy foot traffic in the bathroom can be resolved by simply replacing your old paper towel dispenser with a hand dryer with a powerful motor. The Excel-9 is not only known to burst the most ideal temperature that's safe for the skin, it can also dry hands very quickly and thoroughly – drying your hands takes only a few seconds; this excellent feature is praised by establishment-owners because the foot traffic in their commercial space is greatly reduced.
2. Environment-friendly
Several establishment-owners, customers, and managers are pushing and campaigning for more eco-friendly alternatives to their everyday usage and products – and they have every reason to. More and more people are seeing the detrimental environmental impact of using and disposing of paper towels. Landfills can amass tons and tons of paper towels that cannot be recycled every year, which is alarming news to environment-conscious individuals.
There's no denying that commercial places are one of the biggest culprits in paper waste. That's why it's only proper to switch to the Excel-9 hand dryer because it eliminates the need to use paper towels to dry hands. Instead, you and your customers can enjoy a fast hand drying method without the need to dispose of anything that can further damage the mother earth – this helps both you and your customers contribute to the betterment of the environment.
3. Cost-effective
It's somewhat an open secret for businessmen and establishment-owners to always find new ways to cut back on the costs in return of a higher profit. However, what a lot of them fail to notice is that the inventory shouldn't be limited to food and other items. Constantly purchasing paper towels is not only costly and damaging to the environment, it's also ineffective in drying and unhygienic to the users. Older hand dryer models, on the other hand, take longer to dry hands – making your hand dry time longer. Thus, causing you to pay for a higher electricity bill than you should.
The ABIS Excel-9 hand dryer, however, is known as the best selling commercial hand dryers because of its quick hand drying time and automatic sensor allows you and your customers to dry hands at a much rapid time. Switching to this hand dryer is not only ideal, it's also a worthy investment since it can save you almost half of the cost that you're currently spending on your establishment.
4. Chic Look and Durable
Most, if not, all establishment-owners have the common goal of providing their customers with a wonderful experience during their stay. However, not a lot of them realise that their customer service is not only limited to their services, products, or offers. The ambience, motif, and theme of your establishment is another crucial detail that your customers notice – that's why it's important to give your customers an attractive and cosy atmosphere.
The addition of the Excel-9 hand dryer is not only helpful to you and your customers, but the countless available colours make it possible for you to choose the best one for your bathroom. Aside from that, the Excel-9's casing is made of the most durable stainless steel that can withstand damage and vandalism.
5. Easy to Install
Despite the allocated budget for practical purchases and investments, not every establishment-owner can "afford" hiring an installer for their hand dryer. While spending money to have your hand dryer installed may not seem a bit much compared to the amount of money that goes in and out of the business, the option to install the Excel-9 yourself is achievable thanks to our excellent customer service – our highly-trained staff are willing to help and accommodate our clients every step of the way.
Installing the Excel-9 is effortless and can be done in no more than 15 minutes. Any problem that may occur during your DIY installation can be resolved by our customer service representatives – this eliminates the need to pay for a professional to install it for you – saving you more money in the process.
Why is the Excel-9 the best hand dryer for the office?
The office is the busiest place to be – especially as managers, we want to provide our employees with the most comfortable break time for them to reduce their stress and work more efficiently. At the same time, we want to provide them with convenience during their stay in the office. Many managers fail to notice their employees need to have a cosy place for them to spend time in. Bathrooms, for instance, may be the least priority for managers and entrepreneurs to invest beautiful and functional accessories in, but it's one of the most noticed places in your office. Sadly, decorating and adding amenities to it is often neglected.
Hand dryers are a great addition to your office bathroom for many reasons. Aside from the convenience, it brings you and your customers, it's also a more hygienic method of drying your hands. The Excel-9 by ABIS, for instance, is the most preferred hand dryer by offices and business owners because of its numerous benefits.
But how exactly does it help you and your employees in your day-to-day routine? Read on to find out.
Less time to spend in the bathroom
Employee efficiency is vital to your business. And your employees make your success possible and achievable. If you wish for your employees to make the most out of what they do during office hours, consider getting a modern hand dryer like the Excel-9. Switching to this newer model hand dryer is the key to efficiency as convenience is provided to you and your workforces. Its air spin and motor are powerful enough to dry hands in less than 15 seconds. Foot traffic in the bathroom can be greatly recused with the addition of the Excel-9 as you and your employees will no longer have to wait for several minutes just to dry your hands.
Eco-friendly solution
Thanks to countless campaigns to conserve the planet's resources, several companies are now helping to reduce air, water, and paper pollution. Unlike what a lot of people previously thought, paper towels are not recyclable. Therefore, discarding and disposing of paper towels will not only impact the environment negatively, it will also emit harmful gases and chemicals when burnt. That's why switching to a hand dryer is the environment-friendly solution – you and your employees can contribute to the betterment of the environment by eliminating paper towels and replacing it with the Excel-9.
Cost-effective alternative
Every wise business-owner knows that there will always be countless ways of reducing expenses. Oftentimes, we fail to notice that the simple but constant restocking of paper towels can work wonders to your business success. Switching to the Excel-9 allows you to dry your hands quickly. Also, its automatic sensor lets you freely leave the hand dryer turned on without worrying about the electricity bill. Moreover, purchasing and installing one need not be done by a professional as our customer service representatives are always willing to assist you to ensure that you get the product working. We are glad to accommodate and answer all your queries should you have trouble with any of our products.
Offices may be the busiest place to be in for both you and your workforces, but that doesn't mean you have to spend your working hours inconveniently. A simple bathroom break is appreciated by your employees. And you can further help them enjoy their break time if you install a convenient solution and alternative to hand drying.