Home Cinema Ultimate Guide: How to Build A Home Cinema on a Budget
There will always be something enjoyable when you watch a movie on a big screen.
It's just a universal fact that movies are more enticing, popcorn is more delicious, and seats are more comfortable when you're inside the cinema.
That's why most homeowners try to recreate the ambiance of a theatre inside the comfort of their home.
After all, constantly purchasing tickets and queuing for a movie can get very time-consuming and exhausting for every household member – especially when it's a weekend where you're supposed to be relaxing and having fun.
But the good news is you can still set up a home theatre at home – for a fraction of the cost. There are many ways for you to enjoy a home theatre, it just depends on how you want to decorate it and which features you want to add. Regardless of your personal taste, there are a few home cinema essentials that will keep you from going out to your nearby or local movie house.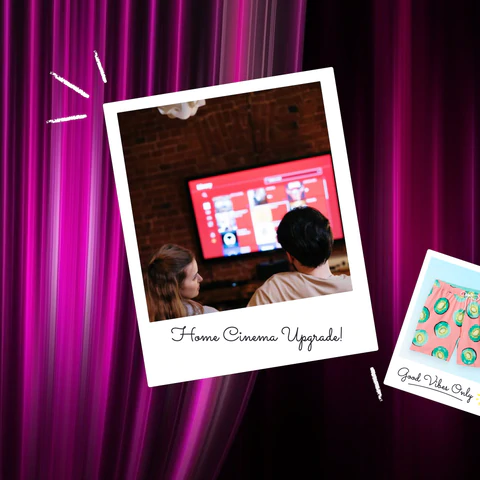 Here's how.
1. Set Up Your Seating Area
Don't worry, if recliner seats are too expensive for you at the moment, you don't have to purchase one. As long as you have comfy and cushiony pillows, then you're all set and ready to invite your fellow moviegoers inside your home cinema. If you're watching a movie with your kids, then you can toss a couple of bean bags on the floor for them to lounge and roll around on – this prevents them from obstructing the view when you're watching something intense or engaging. Because we all know that kids are kids!
Popcorn, of course, is the ultimate movie theatre food. And what better way to enjoy your home cinema than having popcorn with you to munch on as you watch? The good thing about having your own home cinema is you can purchase microwaveable popcorn at a grocery instead of the theatre. After all, it's just as good – only less expensive. Other movie theatre snack must-haves can also be added to your "menu" such as nachos, hotdogs, and candy bars. The possibilities are endless when watching at home – oh, and, you don't have to worry about sneaking in food anymore!
3. Get an HD Projector
How else can you maximise your movie experience if you're not going to watch the film in HD? Fortunately, companies like us sell high-quality yet affordable products. Our bestselling projector, the HD6K+, is a favourite among movie-enthusiasts because of its 4K resolution; movies are sure to be watched in high-definition thanks to this feature that only a few projectors have.
Movies and TV shows can also be streamed when using this projector because of its WiFi-ready feature. So if Netflix is your favourite movie platform, then you can watch movies there just as much as you would watch them on your computer. Not only that, unlike in movie theatres, you can pause, fast-forward, and replay certain scenes because of its remote control – no need to ever turn on your laptop just to project a film to the projector for this as the HD6K+ is truly wireless. Also, if you wish to surround your entertainment room with a realistic, crisp, and HD sound system, then you can connect your speakers to the projector via Bluetooth.
Everyone deserves to watch a good film or TV series every now and then. But one way to thoroughly maximise your movie experience is by watching them in the comfort of your own home. You get the freedom to lounge, choose a movie, and eat any type of snacks without restriction.
If you wish to set up a home cinema, consider getting a high-quality projector like the HD6K+. You can find it here.
Why is the ABIS HD6K+ the best Projector for your Home Cinema
The home cinema projector that stands out from all of its competitors is the HD6K+ by ABIS. Not only is it equipped with several features that can benefit you and your family, it's also the most cost-effective option that's widely available in the market.
But why is the HD6K+ considered the best? Here are a few reasons.
1. Connecting to Bluetooth is easy
Bluetooth connectivity is essential when owning a gadget. Our HD6K+ is Bluetooth-ready. Once you connect your projector to other devices, gadgets and electronics like HiFi speakers can be done effortlessly – this is a great feature if you wish to have the best movie experience at home.
2. It's Wi-Fi-ready
Projectors are used for a variety of reasons. Nowadays, using a projector doesn't necessarily mean that you will use it for business purposes. Even your household members can benefit from having a projector. Our dedicated developers and hardworking manufacturers made it possible to connect the HD6K+ to the internet. Because of that, movies and videos can now be easily accessed.
One of the best ways you can make your movie experience more entertaining is by watching it on a screen that can show you all the details you'd want to see. Our HD6K+ is the true meaning of high-definition. Its 4K resolution is sure to provide you with the best movie experience you and your family can possibly have.
4. You have millions of apps you can download
Android is one of the most widely-used operating systems – and what great way to access them via a projector! Our HD6K+ allows you to access and download Android apps – because we ensure that our customers are always up-to-date.
5. The HD6K+ is protected by warranty
Finally, our HD6K+ is not only a high-quality and best-selling projector, it's also a reliable one. Because we value our customers just as much as we value product quality. We provide a 12-month warranty to our HD6K+ users.
Projectors may not be the go-to option when it comes to watching movies, but if you're in need of an upgrade for your media room, then having a projector is the sure way of making any movie experience enjoyable. For more superior quality products, check out our store.
Advantages of the ABIS HD6K+ Projector over a Big Screen for your Home Cinema
the seating arrangements to queuing movies to watch. When adding the essentials, however, one question always comes to mind in every homeowner – what electronic device must we watch our movies on? Which one would work better for our home theatre? What features can we benefit from?
Having a home theatre with a screen big enough for you and your family to enjoy is both easy and difficult to decide on. Finding the perfect screen to watch your favourite movies on often boils down to two choices – a television and a projector. While both devices possess excellent features for you to maximise on, one can be considered more superior than the other.
But which device should you purchase to fully enjoy your home theatre experience? Read on to find out.
Features
Both the projector and the big-screen television have features designed for you to enjoy the ultimate movie experience in the comfort of your home. But in terms of screen size, the projector is without a doubt the winner. The cost of owning a projector is also usually more economical than a television. A limited budget can impede you from purchasing a television of a large size. Whereas with a projector, you can purchase a high-quality one for the price of an average-sized television.
Projectors made these days are no longer unremarkable. Modern-day projectors like the HD6K+ by ABIS allow you to enjoy TV shows, watch movies, and view vivid, crisp, and high-quality images.
Functions
Televisions were once lauded for being innovative when their manufacturers added the ability to connect a USB for you to navigate and watch your downloaded movies and TV shows directly. But the HD6K+ by ABIS has always been ahead of its time. The HD6K+ is one of the first "Smart" projectors. A smart projector allows you to watch movies, TV shows, and even play games even without an external device.
The HD6K+ has WiFi connectivity and runs on an Android 6.0 operating system. You can stream movies, watch your favourite YouTube series, or Netflix series even without connecting it to a laptop – a feature that television is not capable of.
Specifications
Modern-day projectors are built with features that surpass high-end televisions. Unlike televisions, the HD6K+ allows you to thoroughly enjoy your home theatre experience thru a bigger screen – the HD6K+ has a native resolution of 1280 X 800 that also supports 1920 X 1080 – even 4K. Its brightness of 2,800 LED lumens also means that you can view the screen without you sacrificing the quality of the images that appear. Moreover, it's 16:9 — and 4:3-compatible — aspect ratio guarantees that your movies appear the same way that it would in a cinema.
In terms of features and functions, the projector is undoubtedly more superior than a television. If you wish to fully enjoy watching movies in a home theatre environment, purchase only the best projector in our store.
Home Cinema Setup Guide
Setting up a theatre in your own residence has never been easier and budget-friendly as it is now. However, for most of the projectors, they have to be specifically optimized for computers or for personal cinemas, and there are very few ones which can comprise both.
Thus, before investing, one needs to take ample care, knowledge about the market, and factors to be checked once you go for a home cinema projector.
This guide will help you on what to consider when you purchase your very first home cinema projector and how to optimize your home cinema projector setup.
Resolution
Did you know that even though the standard resolution for a projector is 1080p, you can still opt for a higher resolution in order to get a better viewing experience?
With higher resolution, you will be able to get sharper images and better quality. Also if the screen size is big and the resolution is simple, the pictures might crack.
There are four categories of resolutions: Standard DVD, 1080p, Ultra HD 4K and Native True 4K. Also, keep in mind that whatever projection source you are using has to be clear so that the projection can come accordingly at that resolution.
ABIS is offering an array of projectors to choose from, It ranges from 1080p projectors to 4k projectors. Every one of these devices is the best for projecting the latest movies at the highest resolution.
Contrast Ratio
Contrast Ratio is the next big aspect of any projector. This is the ratio amidst the black and white parts of a specific image. If the contrast is high, then the brightness difference will also be high — higher contrast means that the depth in the picture increases manifold. A ratio of 1000:1 means that the dark is in-depth and darker than any other picture.
There is a condition known as the light leakage, which most of the projectors have to a certain extent. The lesser the leakage is, the lesser is the fading out of the image
The ambience is one of the biggest factors on which the contrast ratio depends. Make sure that the room where you are installing the projector is pitch black and all the fabrics in the room are completely non-reflective.
Brightness
The brightness of the projector is not a big deal for the home cinema projectors which are installed in dark rooms. But if the room is not dedicated for just that purpose, then it is possible that there might be some leakage of the ambient light.
Brightness, which is measured in Lumens, range generally from 1,000- 2,000, while some of the projections range in the middle of 1,800 to 2,400.
If you really want to have the feel of real cinema in your home, then you should make sure that there is as little light leakage as possible. The best results come when the projectors with higher brightness comprise of low contrast ratios — specifically when the room has some ambient conditions.
Projector and Projection Screen Format
The home cinema becomes even more realistic when a projector screen is added to the same. But the kind of screen that you will have will be determined by the image that your projector displays.
It has been seen that the standard aspect ratio is 4:3 which is rectangular. This means that the picture is 4 units in width and 3 units in height. Also, there are a number of aspect ratios like 16:9 or 16:10 which means that you get to choose in accordance with the display picture.
Projector Screen Size
Now you know a great deal about the projector screen that you would want to have but what about the size of the screen? In this case, you have to understand the fact that bigger screen size does not necessarily mean that it will be better in quality.
In fact, it might give the same strain that you receive while being in the front row of a theatre. In comparison to that, try having a compatible screen size that is just adequate for the size of the picture displayed by the projector.
This will also depend on the kind of distance maintained by the projection and the screen and also on the kind of room it is being installed in. In case you have a small room, choose a smaller screen and if you are still in a quandary, try calling us for the ideal options.
Connectivity
The type of network connection that is given to your projector also determines the kind of image that will be displayed by the same. In case you have high-quality network sources like Blu-Ray or Sky HD, then you have to look for the projectors that are HD compatible and will have the HDMI input.
If your source is not that particular, then it is an ideal thing to connect your projector via an AVR receiver. All the sources can then be connected to the HDMI cable that is again connected to the AVR. Now you can do the switches via a remote.
Wireless is by far the best connecting media because then you are saved from the hassle of having underfloor wiring. But that depends on whether the room is a permanent place of installation of your projector or you plan to move it frequently.
Sound
What good is a projector alone if the perfect sound is not there? In most cases, the projectors do not have inbuilt speakers and even the ones that have are very low in quality.
So, to turn your room into a picture-perfect theatre, it is advisable that you do not depend on the onboard speakers and buy a separate set of a high-quality sound system. For the connectivity, only one HDMI system is ample to carry the audio and the video from the projection source to the AVR.
Lamp Life
If you are installing a complete set of home theatre, then it would need maintenance in the first place. Most of the projectors consist of a lamp life that ranges between 2,000 to 5,000 hours.
If you choose to have some high-end device which is entirely professional, you should be getting a lamp life which is greater than this. Here, you have to check out the half-life of the lamp which is half the brightness than the one while you bought it new. Choose the one with longer lifespan so that your maintenance cost is less.
The costing range of any replacement lamp is around $100 to $20, and even that depends on the manufacturer you are buying it from. Make sure that you are cleaning the filters regularly so that the lamp life can be increased to a great extent.
If you do buy a spare lamp, then give it a test run and then store it somewhere cool and safe so that you know that the lamp is not a faulty one.
Still in a quandary?
We understand that all these facts are indeed a lot and it is a hassle to pick just one from the thousands. So in case you have any queries, do not hesitate to call or write to us.