Perfect for your Home Theater: Smart Projectors
It's an unspoken rule that once you start setting up a home theatre, once must go all out. And by that, we mean "go big" – really big. Unlike before when projectors weren't as accessible as they are now, most people only opted for the biggest television that they can get their hands on. But the rise of Smart projectors not only made them more available to the consumers, but their added features have also already surpassed several newly-manufactured televisions.
But why exactly should you opt for a projector instead of a TV when setting up a home theatre? Read on to find out.
1. Cost and Size
Splurging on television isn't always the wisest idea – no matter its size. Projectors are much more cost-efficient compared to televisions. With the 4K resolution that projectors are equipped with, it's comparably cheaper than the televisions sold to the market. An 80-inch television would typically cost over £1,000 whereas modern projectors like the ABIS HD6K+ only cost £239.99.
The tremendous amount of detail that the projectors project also surpasses televisions. ABIS's HD6K+ can project a resolution of 3840 X 2160 or a total of 8,294,400 pixels; crisp and smooth details are guaranteed to be projected when watching from this projector.
Most houses have a television. Watching TV used to be the most common form of entertainment for almost every household member. The digital age, however, introduced other means to keep the people occupied in their day-to-day lives. As such, televisions and what it offers, is considered to be very limited. Projectors, on the other hand, can be used in other ways that are not limited to projecting movies or shows.
The HD6K+ by ABIS is preferred by various individuals due to its countless functions that aren't limited for movies. Gamers, for instance, actively seek the HD6K+ because its Smart technology allows them to download games via the app store – millions of Android games and apps are available for them to use.
Televisions were once nice to own. It used to be a luxury that every home should have. But the lack of technological upgrade in televisions makes it easier for viewers to switch to using a projector instead – for good and valid reasons. Unlike televisions, projectors like the HD6K+ is equipped with WiFi connectivity that allows you to watch YouTube videos and stream movies and shows on Netflix.
Unlike before, modern projectors no longer need to be connected to a computer or other medium for it to project something on the screen. The HD6K+ can be operated via remote control – the same way you would use remote control for a television. Moreover, its Bluetooth connectivity also allows you to connect HiFi speakers — that ABIS also offers — to provide you with an exceptional movie experience akin to a movie theatre or cinema.
Though there's absolutely nothing wrong with owning a television, and TVs paved the way for modern projectors and manufacturers to step up their game, televisions made these days lack the technological upgrade that viewers and consumers look for. Not only are projectors more cost-efficient, but they're also equipped with a wide variety of features that can help you in countless ways. Be it for school project purposes, gaming, or home theatre experience, there's always room for a projector.
To ensure that you're purchasing only the best projector for you and your family, buy only the best one in the market in our ABIS store. Shar
Want more from your projector? Take a look at the best ABIS accessories for your projector!
Best Accessories for your Projector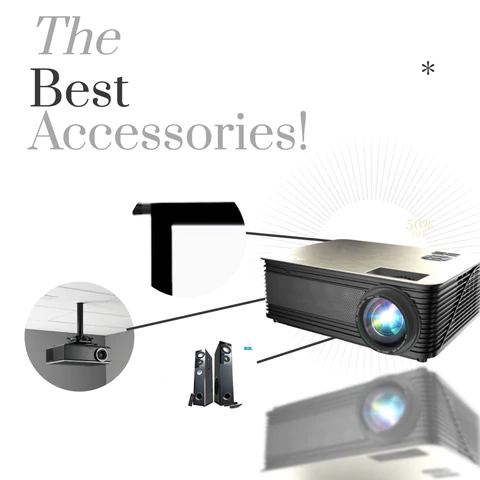 own is one of the latest ABIS smart projectors, then there is so much more you can do with it. However, no matter what projector you are using, you won't be able to really enjoy the most out of it without its supporting elements: the accessories.
Here we are going to explain some of the best accessories for your HD projector.
1. Projector Ceiling Mount Kit
Out of them all, one of the best accessories needed for your HD projector is the projector mount kit. It helps you install the projector at the place you desire. Indeed, even before you begin perusing through the pamphlets at different online stores, you should choose the kind of projector mount you need to purchase. You should make sense of where you will put the projector as well.
The projector might be mounted on the roof or the dividers to give your interiors an uncluttered look and to keep the gadget out of the viewer's viewable area. One of the best projector ceiling mount you can get is the ABIS Projector ceiling mount, which you can buy here.
2. Projector Screen
The sort of screen that will work best relies upon the projector to be utilized, the survey edge, the measure of surrounding light in the room, and the separation of the projector from the screen.
Whatever is left of this article diagrams what you have to know before obtaining a video projection screen for your home theatre.
You can connect the external speakers to your projector to enhance your experience and blast the volume level when watching a movie or playing your favourite game. Most projectors incorporate an Audio Out port that enables you to associate outer sound gears with standard output ports. Our ABIS Smart projectors come with a Bluetooth inbuilt and have HiFi Bluetooth speakers.
4. Air Mouse
The new air mouse remote control is usable for all kinds of projectors. It takes your smart projector experience to the next level making you enjoy your entertainment system better than ever before!
It can aid in the following:
Quick typing and scrolling
True wireless experience
Easy and efficient internet accessing experience on Smart Projectors
Cable and connectors
Cables like Component Cables, S-Video or Y/C Cables, USB Connections, VGA Cables; HDMI Cables are all an integral part of the projectors. Each of the cables and connections has its own functionalities needed in your HD projectors. And when you buy an ABIS projector, you get all of them for FREE!
There you go, when you decide on purchasing an HD projector, make sure you get all the necessary accessories along with it for a perfect performance.
How to take care of your projector

It is important to know how to keep your projector functioning at its best. In this article, we provided in-depth ways on how you can keep your projector tuned up and operating smoothly.
Below are a few tips and guidelines.
Your projector comes with a manual, read it. It should include operational information exclusive to your projector.
Familiarise yourself with the unit before you use it for your first presentation or event.
For a long lamp life, don't unplug it instantly after use. Always allow your projector to cool completely before turning off or unplugging it.
Don't let it heat up. Excessive heat can greatly shorten your lamp life.
Don't place your projector in direct sunlight or near a heat source.
Change the filter if applicable, or as specified in your user manual.
Use an air filter if applicable. Don't operate your projector without it. Doing so can draw dust into the optics of the projector, which can then be projected onto your screen.
Avoid a smoky environment where you operate your projector. This can cause damage to the optics of the unit and can void your warranty.
Store your projector in a cool, dry area. When not in use, you can place it in the shipping box for safe and secure storage. If you are shipping your projector in the future, the safest way to pack your unit is by putting it in the original box and packing material.
If the projector is mounted to the ceiling, make sure that the area near the intake fan is kept clean and not in the direct line of any air or heat vents.
To achieve the optimal image quality, always keep your lens clean. Use a lens cloth which can be purchased at a camera store. It is the safest way to clean the lens.
We have been in the business of providing you with high-quality products that you will surely love.