ABIS 3-Tier Clothes Airer: Guide to the Best Clothes Airer to Get
The clothes airer is a necessity at home and having one is one of the best ideas that could cross your mind. Conventional dryer machines are pretty expensive to run so using a clothes airer instead is such a great save already.
There are a lot of brands and companies that manufacture different kinds and types of clothes airers out there, making it hard to choose one. To make it easier for you to pick one, here is ABIS 3-Tier Heated Clothes Dryer – UK's Number 1 Electric Heated Clothes Airer.
What makes ABIS 3-Tier the best clothes airer?
Here is a comprehensive guide to fully know why ABIS 3-Tier Heated Clothes Airer is the best one to get:
1. Designed for Maximum Drying Space and Capacity
There are different sizes and designs of clothes airers that can affect its drying space and capacity. It is far better from having excess space from your drying rack rather than trying to hang fit all your clothes in a small clothes airer, which can either break it or might take too long for your clothes to dry.
To avoid that, ABIS 3-Tier has three levels of racks that are designed with enough space for your laundry. Its volume is only 1480 mm x 705 mm x 730 mm x which can provide about 20.5 m of drying space and a drying capacity of 15kg. Its design is meant for full loads of laundry. You can also fold the levels that are not being used if you are having a small load only.
2. Designed to be Foldable and Portable
Nowadays, space-saving is one of the most important things you can do for your home so that the place won't look cluttered and you can have other things you like in your area.
The ABIS 3-tier clothes airer is made to be lightweight. Its portable design makes it easy for moving, whether you want it outside or inside your home. When it's folded, the ABIS 3-tier clothes airer occupies just 1480 mm x 70 mm x 730 mm and is perfect for easy storage.
3. Designed for Ensured Stability
Some of the different types and builds of clothes airers do have a problem with stability. You don't want to come back to your clothes just to find them all laid out on the floor still wet because the clothes airer tipped over or collapsed when you left it.

That is why with ABIS 3-Tier Heated Clothes Airer, its base is made from a top-quality anti-slip rubber material to make sure that the clothes airer would not move, or even tip over when you hang heavy wet clothes on it. You can hang several wet jumpers and it will still stand.
4. Designed for your Safety
Most clothes airers are designed just to do their job – to hang dry your clothes may it be outdoors or indoors.
However, ABIS 3-Tier is also designed for your safety. Its power switch is made to be waterproof. This makes it safe to use. No worries if it gets wet when you're hanging your wet clothes. No short-circuits, guaranteed safe to use. This also gives you the versatility to use it outdoors without worrying if it suddenly rains.

5. Designed for Maximum Durability
There are many different materials a clothes airer can be made of. For example, some are used for cheaper selling prices, and some are used for aesthetic purposes.
Whereas ABIS 3-Tier is built differently from those. It is made from premium aluminum rods to ensure that the clothes airer is extremely durable yet lightweight. This also guarantees that it'll withstand the wear and tear that the wet and heat give simultaneously.
6. Designed for Multi-Season
Using an ordinary clothes airer during summer is okay, however, if you are to use it during the winter and wet seasons, you might find it hard to dry your clothes. It'll take time and it might have an unpleasant smell.

This is why an electric clothes airer such as ABIS 3-Tier Heated Clothes Airer is the right appliance for you. You can use it outside during summer, take advantage of the natural sunlight and leave it turned off. While during the winter season, you can use it indoors and turn on the heating rods for a faster drying process.
7. Designed to be Energy Efficient
Both the clothes airer and drying machine use electricity to power on. However, the clothes airer uses less energy. Less consumption means that you're saving much more money.

ABIS 3-Tier Heated Clothes Airer's radiator is made sure to be extremely energy efficient. It is also guaranteed by ABIS that the overall monthly cost is low especially when compared to using your usual conventional drying machines.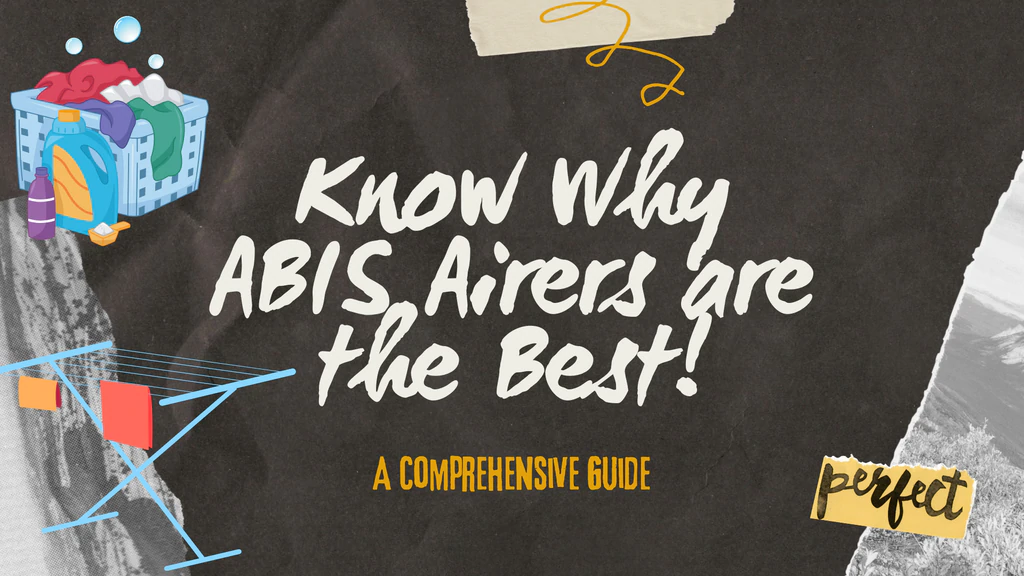 How to Install ABIS 3-Tier Heated Clothes Airer?
Here is a quick installation guide on how you can use ABIS 3-Tier.
Frequently Asked Questions
How much faster does an electric clothes airer dry than the normal clothes airer?

The drying process still depends on the type of fabric you will be drying, but the time frame of drying clothes using an electric clothes airer is incredibly increased 3 times faster than your regular hanging clothes airer.

Can you get burned from ABIS clothes airer?

No, you can't be burned by the heated aluminum rods of ABIS Clothes airer. They only provide enough warmth for clothes to make the drying process faster but not hot enough to get yourself burned.

How high is ABIS 3-Tier clothes airer?

ABIS 3-Tier Heated Clothes Airer is only 4.8 feet in height which means you can easily hang your clothes without hassle. You can also rearrange the racks so you can hang long fabrics or clothes at the top so it has enough room and won't touch the floor.
In Conclusion
Doing the laundry is a no-joke task. It will take your time, your money, and lots of effort. It is not an easy household chore to do, especially if you do not have the right appliances to help you out and provide convenience to you.
This is why ABIS 3-Tier Heated Clothes Dryer is the best one to get. ABIS made sure to give you a safe and low-cost operation with no creases in electric drying. This will help you reduce your clothes drying time by hours. Not only will it save you time but also your money and effort. Not to mention, your clothing too.
To make sure that you are getting the best-heated clothes airers, check out our store.