Video games have evolved from computers in the 1950s and the 1960s  to video consoles and the current technology where gamers can have so much fun using their projector screens. If you plan to purchase electric projector screens to use for gaming, it pays to know the top four electric projector screens for your gaming activities. Gamers can compete with players around the globe at home using their projector screens where the images are vivid as they are watching in a movie house. Manufacturers continue to develop the technology by coming up with electric projector screens loaded with advanced features to make their viewing and gaming experience more enjoyable.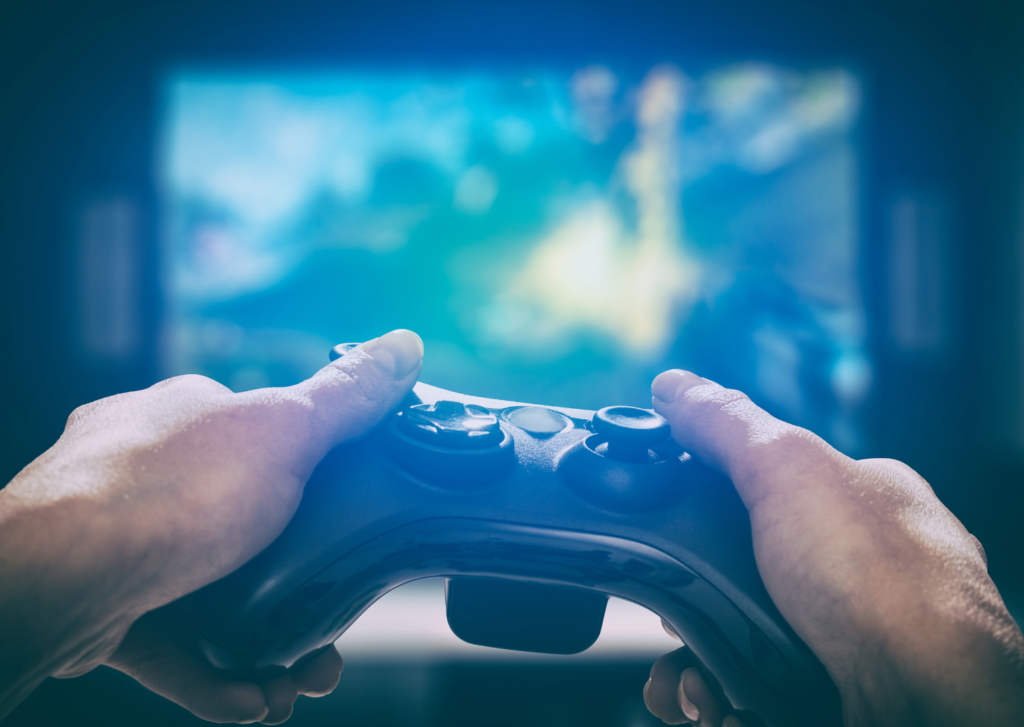 Projector Screens to use for Gaming: Options for you to choose from
Top 4 Electric Projector Screens to Use for Gaming
Are you looking for an electric projector screen for your gaming experience? Here is the list of the top-four electric projector screens for gaming. Keep reading.
1. Luxburg 235by132 cm 106-inch 4K Tab-Tensioned HDR UHD Electric Projection Screen
Gamers find this electric projector screen convenient and versatile to use. It has an aspect ratio of 16:9 and a screen size of 106 inches or dimensions of 235cm by 132cm. It is suitable for other formats because its rollout mechanism is flexible and adjustable.
This premium electric tab-tensioned projector screen has 4K UHD HDR, which is compatible with projectors of similar features to provide contrast and rich colors to the images. The tensioned mechanism and the PVC fabric give a flat viewing surface once you adjust the inner bracket-thus creating a movie theater-level image effect.
Expect no wrinkles, bumps, or waves on the surface, even if you keep using it for years. It also boasts of its elastic tightening system that gives a smooth surface to the screen.
The PVC fabric is compatible with all types of projectors as it absorbs any ambient light. Its back is opaque and black. Maintaining the screen is easy because you can wipe it clean with a damp cloth as it is waterproof. Its black edge masking enhances the optical contrast, and eye strain is not a problem anymore.
You can ensure that the projector screen is sturdy even if the aluminum is lightweight. The installation process is easy to do by using the clip-on wall mounts. You can mount it on the ceiling by attaching hooks to its loops.
The electric motor operates silently and does not eat much electricity. You can either use a remote or wall control when you turn on this Luxburg electric projector screen.
2. Duronic Electric Projector Screen EPS60/43 HD Screen Matte White Screen 4K 8K Ultra HDR 3D Ready (4:3)
The white projector screen is immaculate and thicker compared to the projector screen on the market. The 3D and high-definition screen is versatile whether you play video games or watch movies. This brand comes in various screen sizes and aspect ratios.
For your gaming activity, you can have a screen size of 122cm by 21cm and an aspect ratio of 16:9. It is easy to set up and roll up inside its metal housing by clicking the button. This model is perfect for all types of 3D and HD projector brands.
The wired remote control integrates into the screen for control. You can also control the projector screen remotely if you are in the back seat. The product includes fixtures so that you can install them on the ceiling or the wall.
The screen can absorb the light. The casing is hidden, and once you pull it down, it turns into a widescreen.
3. Famgizmo 4:3 84-inch Electric Motorized Projector Screen Support 16:9 | Full HD/3D 4K Matt White
The Famgizmo electric motorized projector screen is ideal for your home cinema and gaming experience because of its versatility. It perfectly matches with all types of projectors, such as LCD, CRT, and DLP. This product guarantees longevity as it has ISO2000, ISO9001, and ISO14000 certifications.
It is also easy to mount on your wall or ceiling. It operates silently with its low-noise operating system. The 84-inch matte white screen boasts of its 1.2 gain, 170-degree wide viewing angle, and an aspect ratio of 4:3 or 16:9 supports.
It is capable of providing a larger viewing angle while playing your favorite video game. Its wired panel and remote control can be RF or IR type. The white spandex and polyester materials of the projector screen provide high resolution and sharp projected images.
4. BPS 100-inch 4:3 Electric Projector Screen HD 3D 1080P Matt White with Remote Control
This electric projector screen is a perfect match for gamers because the electric motor operates silently, which means you can focus on your gaming without distractions. The high-definition white matte screen is 100 inches or a dimension of 203cm by 152cm.
Its 1.2 gain factor minimizes ambient light reflection and provides a 170-degree viewing angle. BPS electric projector screen boasts of its aspect ratio of 4:3, or you can adjust it to 16:9 formats if you wish.
The black border guarantees increased contrast without losing resolution. The black masking borders bring out the image clarity.  
The material composition of the projector screen includes terylene fabric, white and black PVC with chic white housing. It is easy to install by mounting its wall brackets. It comes with IKEA-inspired fitting hardware and instructions that are easy to follow.
You can operate it through a Radio Frequency remote control or manual control. This brand takes pride in its ISO9001, 2000, ISO14000 certifications. Overall, the projector screen is compatible with LCD, CRT, and DLP projectors.
Frequently Asked Questions
How does an electric projector screen function?

Electric projector screens automatically operate using their electric motor. By clicking the wall switch or remote control, the electric projector screen quickly raises and goes down. You can mount it on the wall, ceiling, recessed ceiling, or on the floor. They are time savers too.

Are electric projector screens as good as manual projector screens?

Both types of projector screens function differently in terms of their operability. The electric projector screens retract back to their housing automatically instead of rolling them manually. You can use the vacant space for other uses.  It saves time in raising and lowering them.

Is an electric or motorized projector screen worth my money?

The answer is a big YES! Investing in an electric/motorized projector screen is worth your money because it does not require you to stand up to raise or lower the screen. It is convenient to use compared to the traditional type of projector screen.
Conclusion
Electric projector screens come in various brands and model types. If you wish to buy this type of projector screen, it is advisable to learn more about the different products available on the market today. Manual Projector Screen 120″ inches 16:9 Aspect Ratio Resolution FHD, 2K to 8K is easy to install, durable, and offers one-click simple operation.